Jobs
---
Hypixel Studios consists of a team that contribute and collaborate remotely from around the world, with members ranging from games industry newcomers to 15+ year veterans. The staff have a diverse set of backgrounds, but share a common passion for games and ensuring that our players are happy.
We are currently 40+ strong, and we cover all of the traditional roles of game development. Art, programming, production, design, and so on. The three key qualities we look for in applicants are:
Self driven.
Has a history of doing cool stuff.
Cares about players.
---
Our Application Process
You can find a diagram explaining our job application process below (click to open image):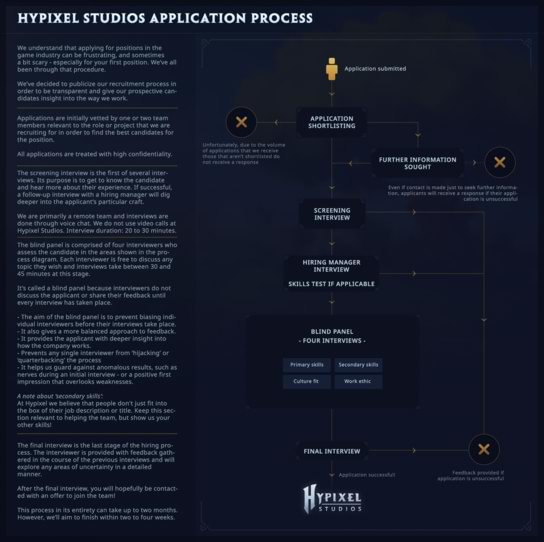 Some tips before applying
Show us what you've done relevant to the area in which you are applying. You can do this via YouTube videos, screenshots, websites, links to GitHub, etc. We will not compile and run any code examples for initial review of applicants.
Failing to get a response unfortunately means we are not interested in pursuing this application. Due to the high volume of applicants we can't reply to each by hand.
Think of an application like an elevator pitch for yourself: keep it short, snappy and provide the wow factor up front! An example of a bad application is where you say "contact me if you'd like to see examples of my work."
Please be aware that you need to be at least 18 years old to apply.